"Star" and "Phil"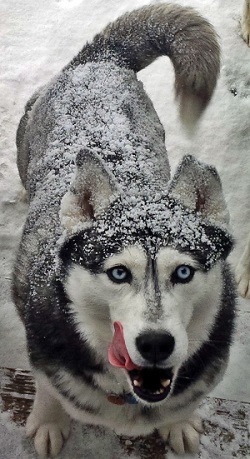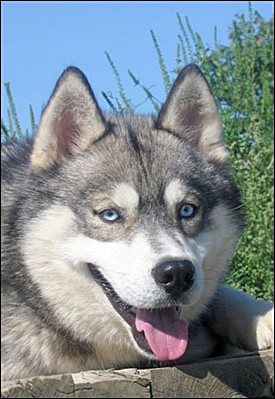 Star (left) - Kortar's Kontinuingtoshine (Ptd.) Sep. 22, 2006 to Dec. 12, 2017

Phil (right) - CH. Kortar's Sir Kollins O'Snowey Apr. 24, 2004 to Aug. 27, 2017


When Dale passed away we went to visit Mike and Carol and ended up coming home with Star – she picked Kevin out as "hers" at the kennel. At the time we didn't realize just how fixated she was on Kevin – it didn't take long to refer to her as his shadow. She was always in a panic to find him. We will miss her trot thru the house looking for Kevin when he came home from work or in the morning when she came in from her deck den she shared with her adopted kids "Kaiah and Kaiber". We also didn't realize that she would become a cookie monster – her posted picture expresses her interest in cookie time. She was also the first husky we had with a solid recall and what a joy she was to walk thru the forest. She was also the best babysitter we had. She loved being with Kiaber and Kaiah on the deck and at the cottage always hanging out with them – they on their leashes or in a kennel, she freely sitting near them to keep them company.


Then one day we saw Phil was up for adoption and we thought "we have 3 what's a 4th", so made arrangements to pick him up. He was loved by all in the neighbourhood for his gentle personality and endless welcoming smile. Phil enjoyed his retirement days by being pampered with his favorite foods (particulary samples of cheese), walks in the forest, lounging on his covered deck, and his daily rubs, hugs, and kisses, and hanging out with his gang – his kids Kaiah and Kaiber, and of course Star.


Everyone in the neighborhood misses both Phil and Star – from toddlers to adults – they would usually drop what they were doing to come and see them to get their "husky healing". We are so thankful to have had so many great friends from Kortar over the years and cannot express our appreciation for the trust they have shown in us by allowing us the privilege of caring for retirees and puppies alike.

---
"
Rosco"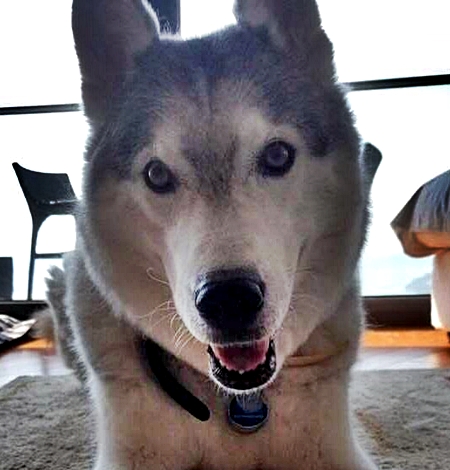 Yesterday we sadly said goodbye to our beloved first child Rosco. We will miss him so much. He was the best husky ever, gentle, loving and so much more. In case you weren't aware, it started with what we thought was bladder infection but was most likely the beginning of kidney failure. After the mass showed on top of his hind leg muscle it was already too late, the Tumor had spread to his lungs, stomach and muscles. He could barely stand up on his own. We went for one more walk to the park in the morning, he went peacefully, happy with a belly of treats and surrounded by those who love him.
We miss him already. RIP Rosco
Simon and Maylissa

---
"Diva"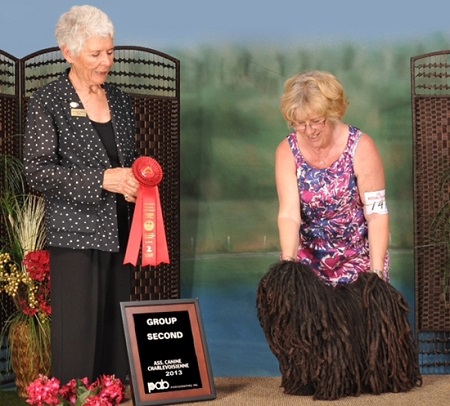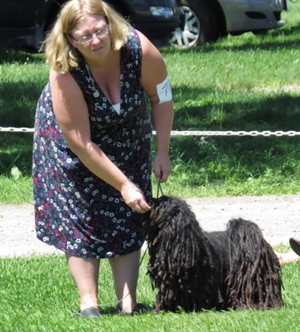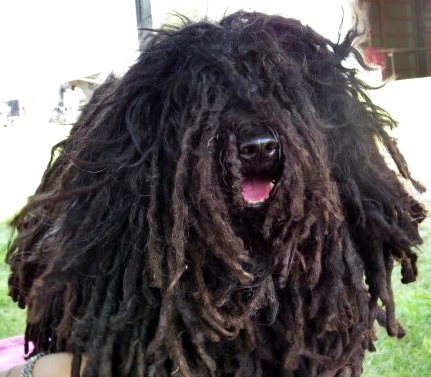 ---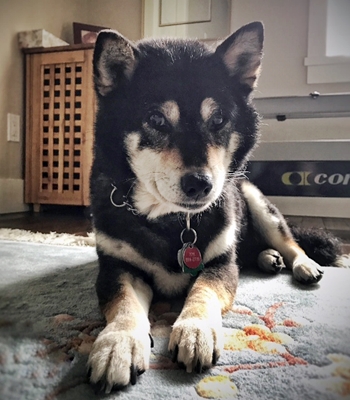 This picture was taken on March 26th 2017.

We are so sad that Hanna died on June 18th at age 14, after being sick for 3 months, and we will miss her terribly. Hanna was beautiful, with a cute and sensitive nature. When our then 2 year old granddaughter, who was terrified of dogs, approached Hanna and patted her, Hanna did not move a muscle. Within 2 days Hanna built such trust that the two of them were playing together!

Hanna was also a princess who had control of her life and everyone else's lives. One growl would subdue the largest dogs, so walks were easy, except they had to be in the exact direction and distance Hanna decreed, or she would dig in all four heels until we turned around.

She has been a great companion for Ringo, once he accepted she was boss. He would often go into the yard and stay by the door until Hanna joined him and on walks they would often be side by side, coats touching.
Jeffrey and Lynda

---
(8 Jan 2007 - 22 May 2017)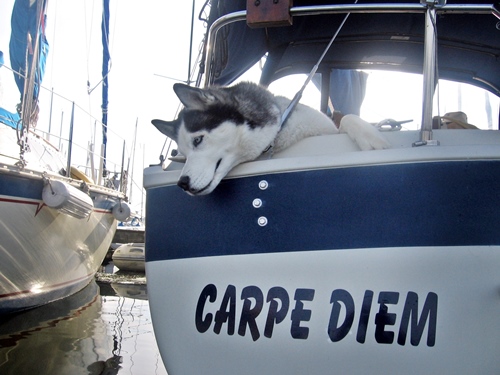 And in the twinkling of an eye...he was gone.
So long 'Bud', old friend and shipmate.
Gary & Lin

---
"A Life Shared With Huskies"
Shaman, Echo, Taz & Kiwi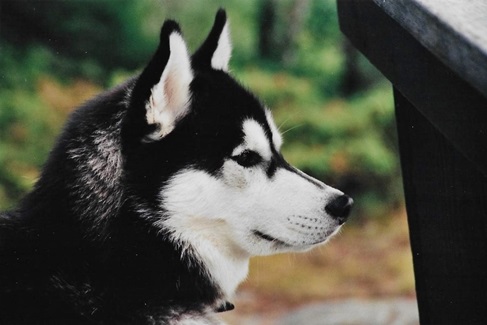 March 11/17 marked the passing of Kortar's Kagali (Taz), the last of our 4 Huskies we have had over the years, preceded by his mate Kortar's Kiwi in June 2015.

It was between our first and second pairs of Huskies, we found out that we were " Sibe people". Once you own one of these extraordinary creatures, you find it hard to consider any other type of dog. They demand much of their owners, they need an active high energy life, but they give back so much more. Intelligent, loving and affectionate, so great with babies and kids, so social, playful and thankful as true companions in a pack like setting with their families.

There's so much sadness when you lose a true friend and companion, but it's balanced out by the many years of joyful memories, ours have averaged 14 years of age. We feel very fortunate to have known and loved Shaman, Echo, Taz & Kiwi over 30 years, and we very much hope to have two more friends in our time. There's simply no better life than a life with Huskies.

Jeff & Suzette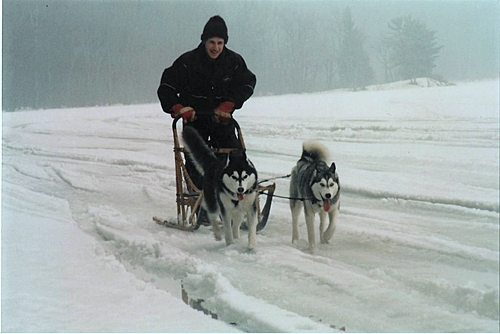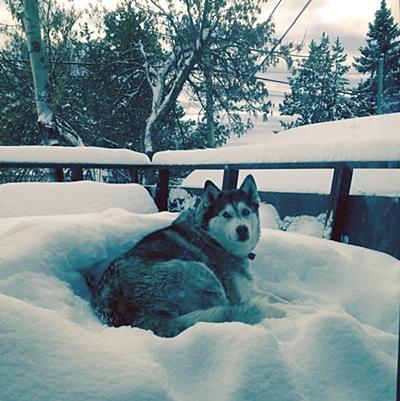 ---
Silvermoons Minime at Kortar - Millie

(April 4, 2000 – March 28, 2017)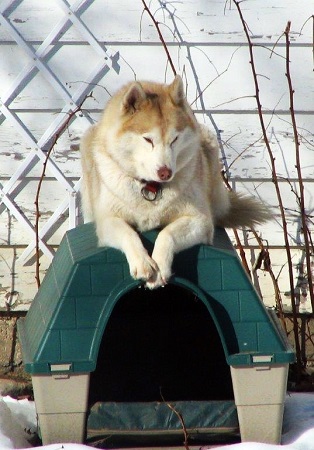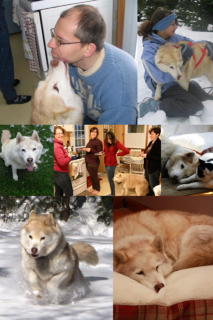 Millie adopted our family in 2004, after achieving Canadian Champ status and having her second litter of puppies at Kortar Kennels.

She moved to Peterborough and assumed the task of challenging every fence on our property – sometimes winning. Millie soon became friends with the OPP, Peterborough Police and even had her own parole officer who would call when she "visited" his home. The only time we had a police officer come to the home in the middle of the night was to return Millie who had escaped and was illegally directing traffic on a local road. Notwithstanding her unending energy, she became a Therapy Dog and visited a local retirement home with Lorraine.

Millie loved walks, skijoring and spending time with her family. She had the nickname "Schmeck" because she kissed everybody as much as possible.
When Millie was 16, we moved to the country. We were concerned that she would be confused by her new surroundings. However, she loved her new home. She slept on the outdoor patio, she made friends with the neighbourhood dogs, Abby, Molly and Lacey and she was soon loved by the neighbourhood children.

Just before her 17th birthday, we knew it was time for her to go. She died peacefully at home. Her feline friends, Podi & Jim were able to say good-bye. Her new neighbourhood friends also helped say good-bye.

Good-bye Schmeckie. We love you and have so many memories. You are now free to run around the clouds in Doggie Heaven with Princess, Tundra and Abby.

Love, Henry, Lorraine, Jasmine, Chelsea, Kara, Podi & Jim.


---
Kortar's Meeka Can CH, TDI, TT, CGC

(04-Feb-2003 – 09-Apr-2016)
(Click to enlarge)

From the day we first saw Meeka, he brought us many smiles and much joy each and every day. Meeka was known for his exceptional temperament and calmness. Through dog show's where he acquired his Canadian Champion status, his Certified Therapy Dog International, his Canine Good Citizen status, his Temperament Certification and his everyday life, Meeka introduced us to many people and took us on wonderful journeys. Whether it was skijouring, participating in agility, walking, biking or just relaxing around the house, he always was with us. He is now gone from us taking a piece of our hearts but leaving us with the most beautiful memories. He is missed by both of us and Moka, his play buddy for life.

Phil, Nicole and Moka


---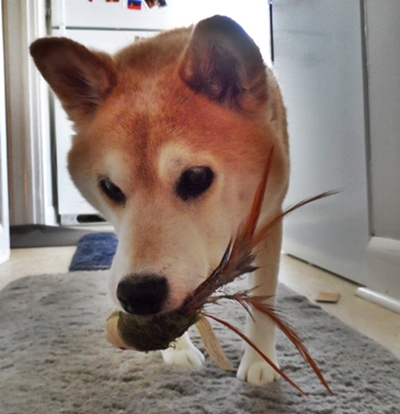 "Sophie"
October 18, 1998 - August 24, 2015,

Out through a cloud of twinkling faerie dust came legions of winged faeries to bring their faerie Queen home. Up she went with a wagging tail and a grin to bask in the sun and resume her
place in the stars as rightful faerie queen.

I will miss you forever but I'm so very grateful you chose me to spend your time with on earth.

My sweetest girl, Sophie Lillith...you live in my heart always.

---
"Flash"
FCC Can. Ch. Kortar's Kloudburst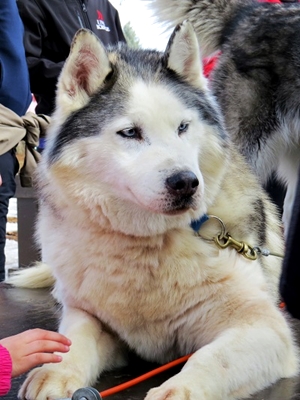 ---
"Ku"
Ch. Kortar's Ku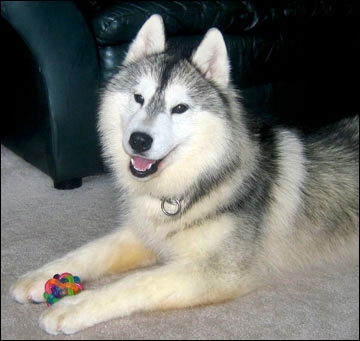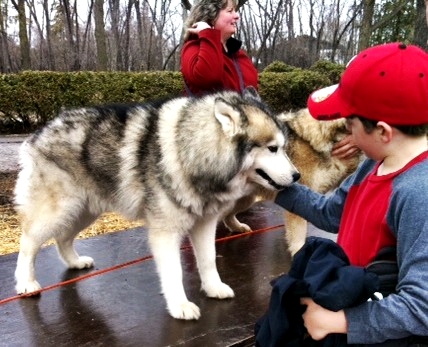 Ch Kortar's Ku, just short of his 11th birthday, at his last public appearance at the Vanier Maple Syrup festival. Always the ambassador of Siberian charm and loving attitude, working his magic with his portion of the 1500 children who visited that day, making their field trip an even more special occasion. He taught them dog safety with his loving charm, gentle manner and patience. There were many more clean fingers and faces to the delight of giggling children.
Our dear Ku, I watched you take your first breath and your last, and with every breath you took, you shared your joy and loving spirit with us all. I can only thank you for the blessing of having been such a close part of your life. Run free!

---
"Stanley"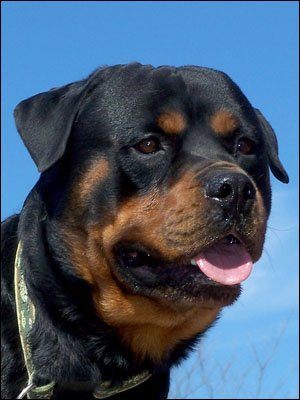 ---
"Kaptain"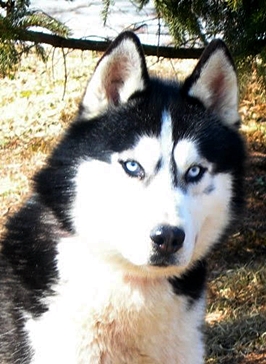 It is with broken hearts we share the loss of our beloved Kaptain.
March 23, 2007-October 18, 2015

In February of 2009 we got a call from Mike and Carol. They had a sweet young boy who was not enjoying the show ring. Being full of energy, they thought he would be much happier running in the snow. We weren't sure at the time we wanted an eighth dog but agreed to go meet him.

One look into those beautiful blue eyes, and we knew we were bringing him home. He became Dad's birthday present on February 7th. What a bundle of energy! He eagerly greeted his new brothers and all seemed fine until he chewed his way out of the kennel at 2 AM. Looking for his new dad, he trotted right up to our bedroom window to wake him. What a smart dog! He quickly adjusted to his new life as a sled dog, giving tail wags and sloppy kisses to everyone he met. Along with those eyes, he had beautiful markings and a dynamite personality. He loved people and people loved him!

We miss our little sleddog every day, but know he has joined Diesel giving sled rides to all the little angels in Heaven. Rest well sweet friend. You will forever be in our hearts.

---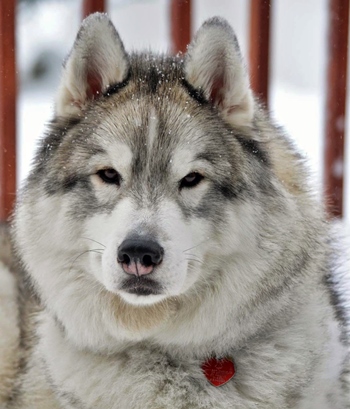 "Levi"
March 15, 2009 - May 30, 2015

We are sad to announce the passing of our Levi. He touched everyone's heart who meet him with his kisses and smile.

He opened his heart unconditionally and brought us joy to our household.
He is sadly missed by Alan, Donna and (Toby his playmate).

Along with all those that were blessed to have know him, other family members and friends.

Donna Nickerson & Alan Farrell

---
"Rain"
January 7, 2007-May 15, 2015

"Cloud" (Nova)
November 21, 2005-November 16, 2014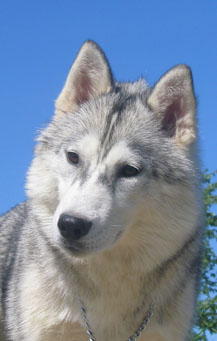 My face does not hide, how I I feel inside. I'm happy you're free, it tore out a part of me. Cloud, with you I could not tell. Rain, I knew you too well. I hope you have found, the same field to run around. I am all alone, without you to roam.

In the middle of the night, I have you in my sight. When the dawn breaks, my heart aches. A day does not go by, that I don't' hang my head and cry. I miss the wind in my hair, when your heads are in the air.

I'm suppose to move on, it's hard to do when you both are now gone. I will treasure the good times we had, they're difficult to remember when I feel so sad.

There will never be another to take your place, I need a husky to fill this empty space.

Love You Rain and Cloud.
Mom.

---
"Tutu"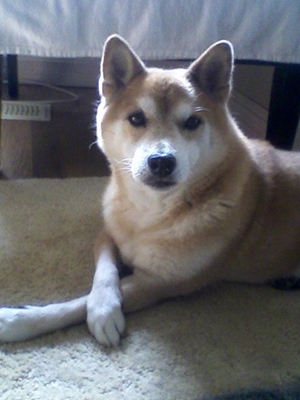 At almost 17, I had to say goodbye to my old guy on April 21, 2015.
Tutu taught me a lot during his long life and he was always a sweet, loving and faithful companion. He was the bravest, most handsome dog and lived each day with a fiery spirit! He was dignified and graceful too and completely stole my heart.

I miss him terribly but I know that he is not so tired anymore; He is healthy and pain free now and flies thru the heavens looking for somebody to boss around. I will always wish he was still here with me but I am so grateful for the many years that he chose to be my friend.
~ Emoji

---
"K
yra and Dante"
It is with broken hearts that we announce the passing of our dear inseparable girls,
Dante (Marie) (Our Alpha Female)
March 5, 2001 – December 22, 2014
&
Kyra (McBean Baby)
March 13, 2000 – November 17, 2013
Inseparable the two of you were. Committed to each other from the day you met. Your bond only grew stronger through the years. Where there was one, the other was always within sight. The two of you together were a perfect vision of effortless happiness, fortitude, confidence, respect, acceptance, simplicity & love. You both understood and accepted your roles. A perfect team. A perfect pack.

---
"Kutie"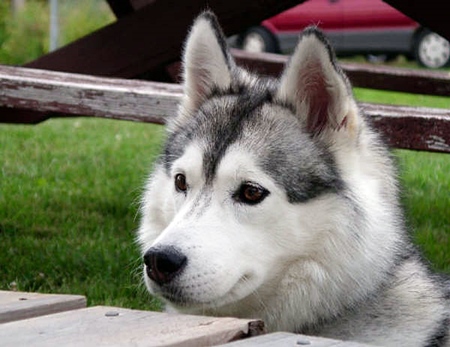 February 27, 2004 - October 13, 2014
Kutie joined our family in 2005 and she has held our hearts since the day she moved in. She loved living in the country where there was always lots for her to do. She loved to roam around the yard looking for squirrels or chipmunks to chase and wouldn't leave them alone even if they ran up the rain pipes. She liked to go swimming in the summers and joined us on boating and camping trips every summer. She definitely preferred the the winter weather though when we would take long walks along the frozen river. She was a beautiful dog, even in her last few years people would often stop me to ask if she was still a puppy.
Kutie was our special girl whom we miss dearly.
Carlie & Sean

---
"Jetta" Kortar's Kreation O'Jack Jetta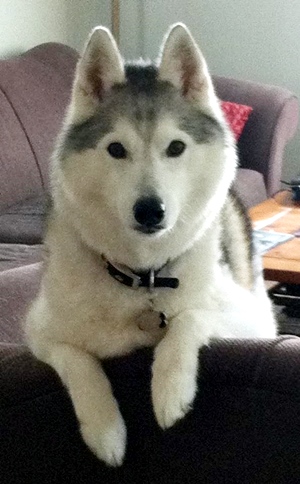 1

January 2002 - October 2014

My beautiful Jetta passed away a few days ago. She was the most amazing dog and a true friend and companion.

Jetta was the best friend I could ever have - she was by my side constantly and she will be so missed. If it wasn't for her I wouldn't have been so happy the last 12 years.

Run free!

Stacey

---
"Diesel"
It is with broken hearts we acknowledge the passing of our beloved friend, Diesel.
In the January of 2003 we decided we needed a third Siberian to complete our little team of sleddogs. Mike and Carol immediately thought of Chinook (a.k.a. George) who was ready to run. As we picked up our little lead dog, Mike held up this rambunctious plump little fur ball announcing he wanted to move to NY, too. We said, "Oh no! No house training in the middle of the winter!" We wanted a dog ready to join Aspen and Bear in the kennel. We happily came home with Chinook. But we couldn't forget that beautiful plump little rambunctious puppy we left behind. In less than two weeks, we were back at Kortar to bring Diesel to his forever home.
Diesel was an exceptional little dog! The first time we took him skijoring he was only supposed to be watching his older brothers, but we forgot to explain that to him! He had his line TIGHT, and we were out of breath trying to create some slack. The only time he slowed down was to jump at the icicles hanging from the evergreen boughs along the trail. We knew we had a powerhouse! Whenever he saw the harnesses come out, he was ready to go. He spent many winters giving sled rides to a countless number of school children. He loved everyone.
Diesel's constant smile was infectious. Everyone who met him commented on his exceptional temperament and fun-loving personality. We will miss our furry friend and companion, but know he is happily pulling his sled and giving rides to the angels in Heaven. We will miss you, but you will always be in our hearts.

---
"Kisses"
What a wonderful journey we've had. From the gorgeous little fluff ball we first laid eyes on at 3 weeks old to the beautiful, hand-picked champion you became. With a mom named Ariel and a dad named Hawkeye, we knew you were meant for our family. You would complete the pack.
Out of 21 pups all in their respective pens, you captured the eye of your daddy with your kisses and your charm and he never let you go. Though you technically were already promised to someone else, there was no doubt your connection made it clear, you belonged to us!

---
"Denali" Kortar's Karamel Katcher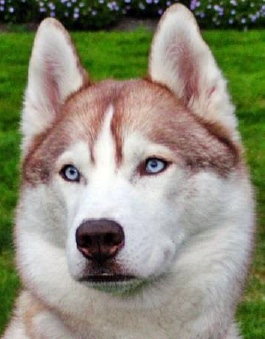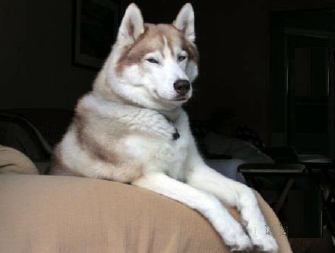 March 9, 2000 - March 22, 2014
Denali was a wonderful dog whose spirit was so joyful that he almost seemed to laugh.
He had a long and wonderful life.
Sadly missed by Stephen, Ed, Oreo, Bandit and K'lo.
They have written a tribute to Denali, linked to below: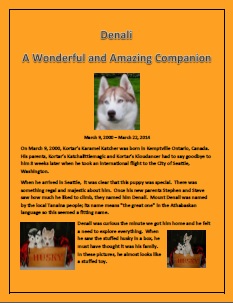 ---
"Brady" Kortar's Dallas Dakota Kowboy Dominique
January 1st 2002 - February 8 2013
Brady was the most amazing dog, who loved life and was always happy when people where around.
He loved his walks and meeting all his doggie friends in the neighbourhood. His favorite activity was jumping and playing in the deep snow.
Although Brady was a very stubborn boy who made us late for work or school many times, because he would not come inside, we loved him very much and he will always have a special place in our hearts.
Run free!

---
CH. Kortar's Krazilady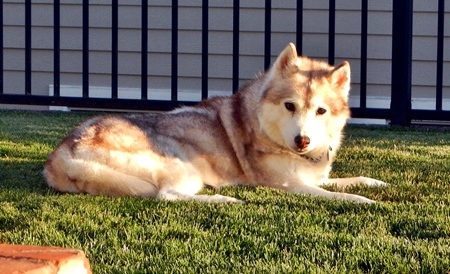 Lucy passed away quietly on November 17th at the grand age of 15 years 9 months.
Needless to say, our hearts are broken into tens of thousands of pieces. The joy, companionship and love that Lucy brought to our family is infinite. She was, and still is, so special. Even though she was only "ours" for almost 7 years, we appreciated every second. I want you to know we loved her so much, and it seemd she knew it. At least we hope so.
The circumstances bringing her into our home were magical. She came to us two days before Christmas - and Lucy loved the holidays. From listening to my mom practice and prepare for the Christmas services on the piano at her home to helping me in the kitchen, aware a beater was coming her way, it was her special time. This year promises to be a challenging.
Lucy lived for her food, her walks and her Starbucks outings! Everyone who met her spoke of her "sweetness."

---
Chivas
On October 25, 2013, in his 15th year, at his home in the Cayman Islands, Chivas crossed over the rainbow bridge.
Chivas and his buddy Boston Terrier "Gypsy" were part of the Kortar Clan during the rebuilding/clean up stage following the devastating hurricane in the Cayman Islands. Chivas, a badly abused rescue never stopped trusting the goodness of most humans. During his stay here in Canada, he obtained his TDI, Therapy Dog International title, to become the first certified therapy dog in the Cayman Islands! He tested his sledding ability experiencing snow for the first time with Gloria by his side. Chivas did his best work as a companion and baby watcher for our two grandchildren. Chivas made his mark and his spirit triumphed over his difficult beginning. You will be missed Chivas, and have a place forever in our hearts.
~ Carol & Mike

---
Kortar's Pirx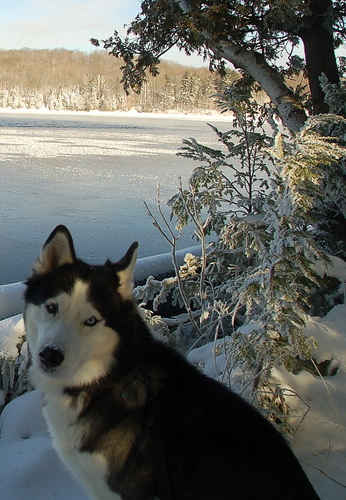 (Oct. 23, 2001 ~ Sept.21, 2013)
We had to say goodbye to our beloved Pirx, just a month shy of his 12th birthday. With a gentle and kind heart he wove his way into the hearts of anyone he met. His smile was infectious and his goofiness endearing. He was always up for a hike, a walk, a run or just a cuddle on the couch with some mango, right up until the very end. He will be terribly missed and will always have a special place in our hearts.
~Christine

---
"Sweet Marie"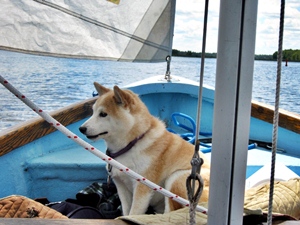 Sad to relate that our beloved Sweet Marie, who would have been 12 on Oct. 27th, passed away on August 2nd.
~ Bronwen

---
"Seamus" Kortar's Krimson Moon

Seamus and Jenny cuddle ~ Dec 06

2013/01/01. Seamus died this past week. (Kortar's Krimson Moon puppy of Kortar's Krimsonglory and Galena Creek's Moon Drifter) We'll miss our dear friend very much. Seamus was a distinguished vocalist, discriminating eater, enthusiastic escape artist, unrepentant sofa hog and, without exception, friend to all. Life won't be the same without him. He was a fabulous dog.

James and Kirsten

---
"Majyk" Kortar's Katch a Little Sunrise Majyk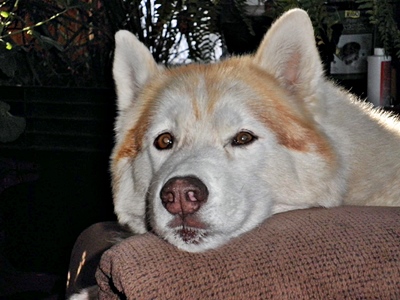 Majyk passed away on April 28, 2013.
Majyk and KaKo (Kortar's Karolina Kool) came into our home twelve years ago.
Majyk was an incredible dog. Actually they both are amazing. Majyk was a constant companion to my father while he lived with us after his stroke. I swear that if there had been an emergency Majyk would have dialed 911. He was so careful and protective of my dad.
As Majyk is my heart, KaKo is my soul. She is very lonely without her friend.
Run Free!
Norean and John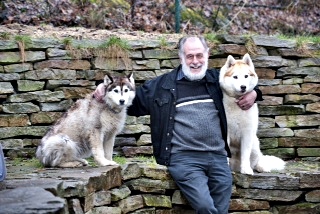 Majyk and KaKo with Dad

---
"Maya" Kortar's Mayalove Ina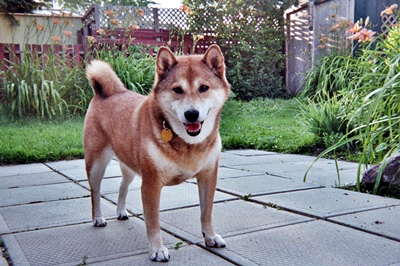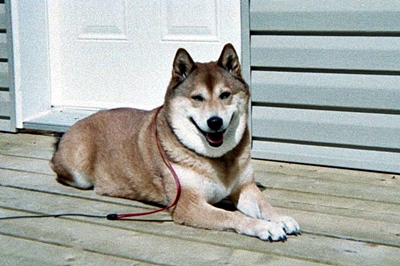 We are very sad to announce the passing of Maya Love Ina on March 22, 2013 at age 14. She was a very special girl and will be greatly missed by her family.
Georgina, Louis and Sophie.

---
Kortar's Keyano and Kortar's Fauna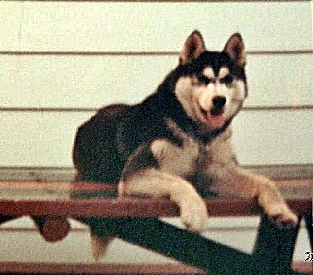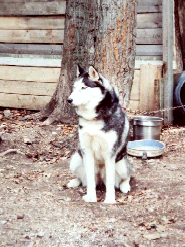 In Loving Memory Two beautiful Dogs from Kortar's days in Campbellville Ont., Kortar's Keyano and Kortar's Fauna.

To this day, both of these wonderful girls have left a paw print on the hearts of myself and my family.

Though

five years apart in age Keyano, the older, pictured on her favourite spot atop the picnic table and Fauna, the younger, had personalities and spirit which where evenly matched.

They both brought fresh air and sunshine to my soul even on a cloudy day. Smiles, laughter and muddy paw prints equals great Siberians from Kortar Kennels.

Lindy

---
"Jeffery" Cedarpaws Commando At Kortar (Ptd)
October 9, 1998 - February 26, 2013
"Diamond Lil" Kortar's Klingon Krystal
June 20, 1999 - March 14, 2013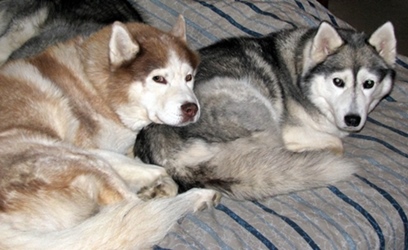 It is with heavy hearts that we announce the passing of our beloved Jeffrey Cedarpaws Commando At Kortar (Ptd) and darling lady Lil. "Diamond Lil" Kortar's Klingon Krystal
They were much loved members of our family.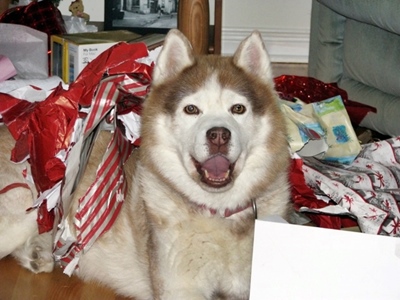 Jeffrey was a happy-go-lucky fellow who enjoyed "talking" to anyone who would listen. He loved Christmas, particularly when he got to help unwrap the presents.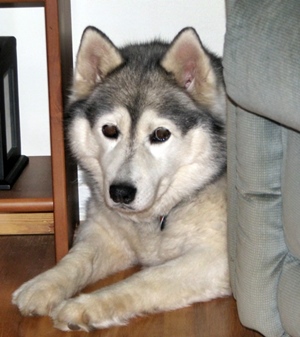 Lil, our shy one, was such a sweetie. She loved to sing and when excited enjoyed running circles around us.
We are blessed to have had them in our lives. They are greatly missed by us and Keely, Jeffrey's daughter.
Peter, Pat, Melissa, Jeremy and Keely

---
"Davey" Kortar's David Kopperfield ~ March 3, 1999 - June 13, 2012
It is with sadness that we announce the passing of Davey. He was a loved member of the McAllister family, and an enthusiastic participant in their home day-care. He will be remembered for his kind and gentle nature. Davey will be dearly missed by Ken, Leanne, Eryn and Brenna.

---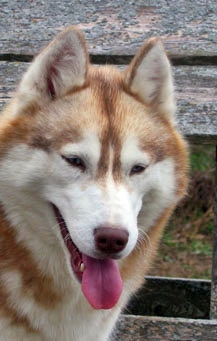 "Goldie" FCC Int'l/Can CH. Kortar's Kopper Klear TDI, TT
Goldie passed away in January 2013 at the age of ten following a very brief illness. She was an amazing show dog, wonderful mother and loving companion. Goldie was a happy member of the Mcallister family, chasing the neighbours' cats, going on long runs with Leanne, and getting constant affection from everyone. Sadly missed.

---

My memorial stones arrived yesterday! 14 stepping stones each with a name of one of our dogs urns buried here!
Kesu, Kalua, Gloria and Bam Bam among them, bringing together over 40 years of Kortar history! Just as hard to read the names as when we placed them in the ground! I think it will be a nice tribute once they are all placed. — Did I forget to mention Rosie Bear! And Willie, the odd one, Kim, Tilly are there also!


---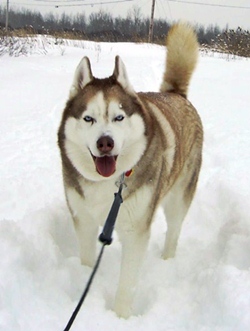 "Buddy" KooperBuddy ~ Nov 28, 2000 - August 24, 2012
We are sad to announce the passing of Buddy (KopperBuddy).
He brought so much pleasure and joy to our home. He was our companion, our friend, our baby and a playmate to Levi and Coco.
He will be sadly missed by: Alan, Donna and (Levi and Coco his playmates),
Along with all those that were blessed to have know him, other family members and friends.
Donna Nickerson & Alan Farrell

---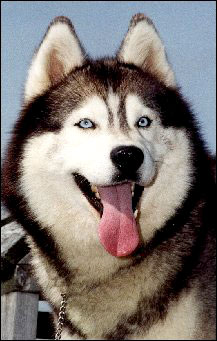 CH. Galena Creek's Moon Drifter "Drifter"
To all of his friends that had the opportunity to know this remarkable Siberian, and those of you, that are fortunate to have his children, grandchildren and great grandchildren, you have been blessed!
Difter's long and happy life came to a close Friday August 10, 2012. He is mourned by his kennel and his people.
So long, Drifter! Run free!

---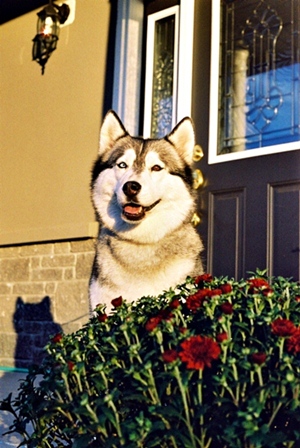 CH. Kortar's Kansas Kowgirl TDI CGC TT
Dale will be sadly missed. She was the Ellis' constant companion who was always there to make her family feel better. She came into their lives and graced their home with her quiet, calm and contented spirit.
Run free, Dale!

---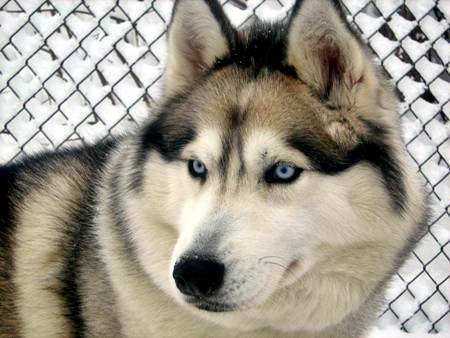 Wishkah came to our family in the summer of 2000 at the tender age of 8 weeks.

Her human sisters (4 of them, aged between 6 and 10 at the time) welcomed her and enjoyed playing with her and teaching her tricks.
Wishkah loved the snow (of course!) and enjoyed winter walks with her "alpha male" Dean across the frozen St Lawrence River, where they would sit and watch the snow blowing across the surface, and listen to the booming of the ice shifting from below.
Often, she would spend her days in her pen in the yard, watching the local sled dog club as they went along the snowmobile trail at the end of our yard - or further away on the bike path next to the river with their wheeled sleds in the fall.
With such distinctive markings, a walk was never complete without someone commenting on what a beautiful dog she was.
She will be missed- although I imagine there will be another Siberian in our future.

Ceri and Dean

---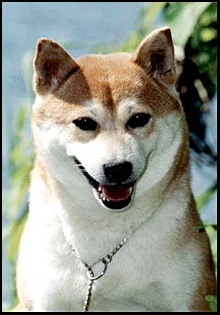 Sadly, our matriarch Ms. Snickers Galena Snickers of Snosecret (Ptd.) passed away, almost reaching her 17 th birthday which would have been Oct 29th. She is the grandma sometimes four generations back of many of our current stars! A wonderful companion dog for her Sjufang following her motherly duties. She will be missed.
Run like the wind now you are free.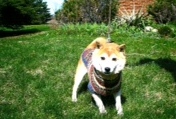 ---
"Gloria" BPIS BPIG Champion Kortar's Krimsonglory CGN TDI TT

September 22, 1996 - May 12, 2010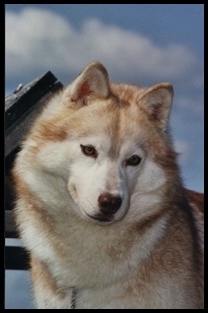 Best Puppy in Show (BPIS) Multiple Best Puppy in Group (BPIG)

Canadian Conformation Champion (CH) and Canadian Good Neighbour (CGN)

Therapy Dog International (TDI) and Temperament Tested (TT)

Gloria was best known in her role as the Disney character "Duchess" in the 2001 movie "Snow Dogs". Fame gave her and her brother Bam Bam, (who was her "double), a means to spend over 450 hours visiting schools alone. The visits included children ranging in ages from nursery schools as South Branch in Kemptville, public schools as North Gower Elementary, and private schools, Hillel and Kanata Montessori to high schools in Ogdensburg. Children interacting with her in a single day numbered in the thousand at the Vanier Maple Syrup school field trip day! During these visits, they helped children learn about the Siberian Husky breed, Dog sled racing and most important of all, safety around dogs and general dog information.

Gloria appeared in many local events promoting good dog ownership: 67's home game, Vanier Maple Syrup Festival and school education event, Super EX, Billings Bridge Estate program, Pinhey's Point winter education event, Kemptville Santa Parade, Friends of Ferguson Forest Day, Prescott Winter Festival, Family Cinema, Big Sky Ranch and even a fashion show! Many of these were also fundraiser's for charity events like the Arnprior Snow Suit Fund and Big Sky Ranch where she sat happily for hours in the sled with "her" children having photos taken raising money for these charities. Her travels were as far away as Baie St Paul PQ to Plattsburg NY.

A TDI or therapy dog, she had over 700 hours overall of community service. Gloria's call name was given to her by a patient in her first visit to the Kemptville District Hospital and stayed with her throughout her life. She loved her visits with patients in hospitals and was a regular visitor of Bayfield Manor Senior Retirement and Nursing home in Kemptville. Her ability to understand the needs of an autistic child to a withdrawn senior was remarkable. The smiles she brought to those she met, often remembered wearing her sun glasses and crown with her pearl collar made her a real tribute to her breed and therapy dog work.

---

With sadness, we note the passing on 27 January 2011 of Kiara, Kortar's Kid Kiara. Owned by the Bairds, she was twelve years of age.
Run free!

---

11 Nov 2010: We are sad to announce the passing of Syber, companion and mate to Syberia. He will be greatly missed by Kevin and Lisa.

---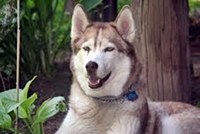 With great regret, we mark the passing of Kaleb, also known as Thule the Wonder Dog. He and Stuart ran together for years. Most Saturdays in the summer they would do a 44 km run along the Bruce Trail in Tobermory. A real character with a huge personality, brave and loyal all his long life.
Run free!

---

Bailey, our sweet loving Siberian gal, passed away following a tragic accident the beginning of October. Bailey, born 15 March 2009 was a Bling and Ku daughter, sister to Visa, companion and best friend of Rosco, much loved by Simon and May. May your fun loving spirit run free with the wind!

---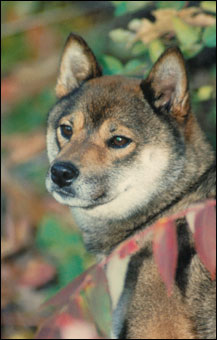 On a sad note, Genie - Ch. Kortar's Kongeneality - left us on October 2nd, aged sixteen years eight months. Genie was one of Kortar's foundation Shibas and was well loved by several families during her long life.
A champion and a grand old girl.

---
15 January 2010: With sadness and shock, we all share the grief of the Rankin-Wood family over the tragic events leading to the untimely death of Kasaan. He was Kortar's Kasaan born March 27 2008 out of FCC Can Ch Kortar's Kloudburst and Kortar's Klandestine.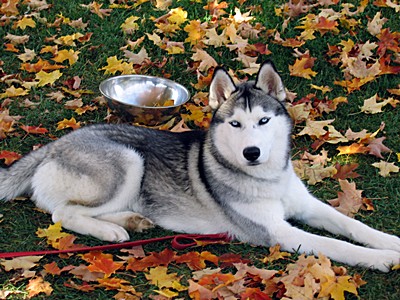 Always gentle, run free Kasaan!