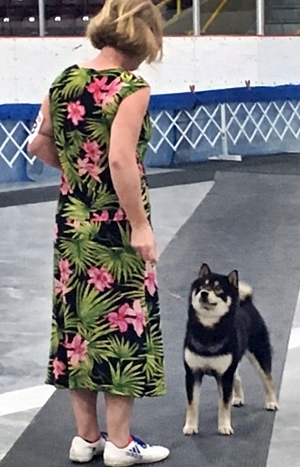 Bill at TIKO 2017
Koxswain - Best Veteran in Group
Kars July 13 2017
(click to enlarge)

Kars Dog Show

Siberians

Jake - 1st Bred by Exhibitor, winners Dog, Best of Winners, pointed

Raven - 1st Bred By Exhibitor, winners Bitch, Best Puppy also 1st Puppy Sweepstakes - Group 3

Shibas

Drifter - Winners Dog, Best of Opposite Sex

Keki - Winners Bitch, Best of Winners, Best Puppy, pointed also 1st Puppy Sweepstakes - Group 6
---
Canine Influenza Awareness
The American Veterinary Medical Association (AVMA) is reporting that the ongoing canine influenza outbreak in Chicago and parts of the Midwest has been traced to a different strain of the virus than originally believed. This marks the first identification of the H3N2 subtype outside of Asia, according to US researchers.
---
High school stress less week - Kortar version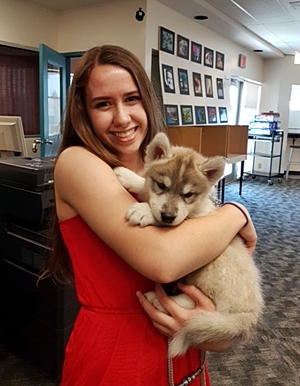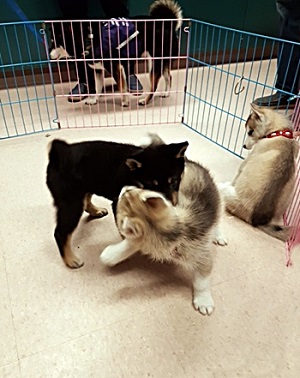 Pictures are from Lunch period at West Carleton SS for pet a puppy. Great start for the students 'stress less week.' The line up was down the hall and we tried hard to get everyone in, even tho it was only for 90 seconds!! They were soothed on the way out with freezies! Shout out to Ms. Kinney and Mr. Mountenay for helping me to get this all together. Lily was a hit with the students showing her therapy dog skills and the puppies with their antics were loved by everyone. Thanks to Carol and Mike, it was great!!"

---
It's Confirmed!
Kortar had # 2, #8, #9 and #15 top Shiba Inu in Canada for 2016!
Liz #2
Bill # 8
Kalypso #9
and Bob 15

---

Click for the video of "Stig" and his handler Karen Kehoe during a scenting exercise. Allowed 45 seconds, Stig detected the scent in only 28 seconds!

---
Vanier Maple Syrup Festival 2017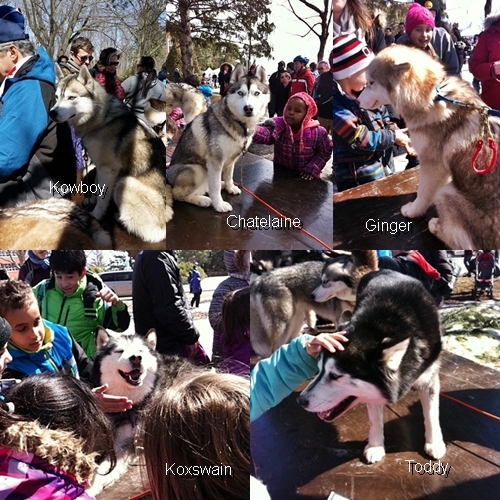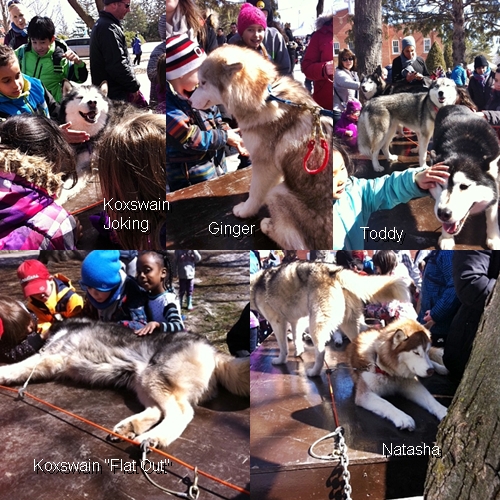 ---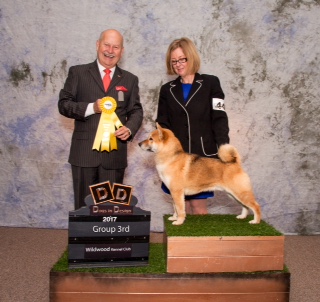 Sumo won Best of Breed and Group 3 yesterday February 3, making him top Shiba in Canada.
Congratulations, Sumo!
---
PETS+US 2016 BREEDER OF THE YEAR!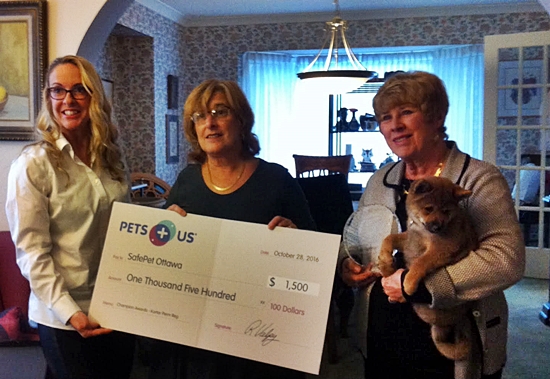 Kortar Kennels Perm. Reg'd. won the 2016 Pets+Us Breeder of the Year Award. The award included a $1,500 donation to Ottawa SafePet which was Carol's charity of choice.

Shown in the photograph are Karollyne Trottier from Pets+Us, Ayala Sher, President of SafePet Ottawa and Award winner, Carol Broadhurst.
---
More Show News & Photos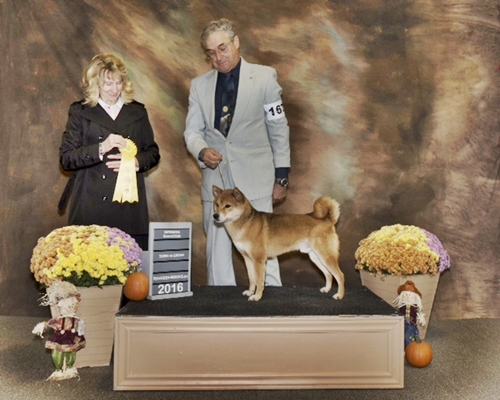 Drifter at the Nippissing Show October 2016
Drifter also took another Group 3 on the Monday show.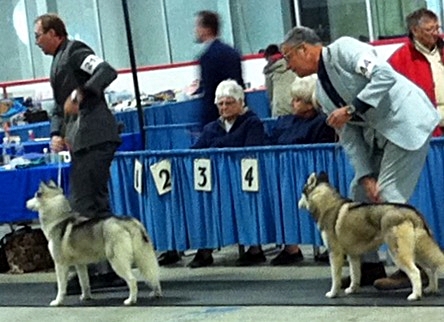 Chatelaine at the North Bay Show October 2016


Kalypso took one Group 2nd, two Group 3rd's and one Group 4 at the Nipissing show moving her to number 8 standing
in Canada!

Kalypso is behind Ch Kortar's Kunsei (Bill) who is standing number 7 and GCh Kortar's Komonwealth Kween (Liz) who
is standing at number 2 in Canada.
---
Show News!
Cornwall District Kennel Club
Shiba Inu
Drifter won Best of Winners Sept 2,3 and 4 at Cornwall this weekend!

Kalypso is now a Champion!!
Siberians

Kash won Best of Breed today so he added to his point score!!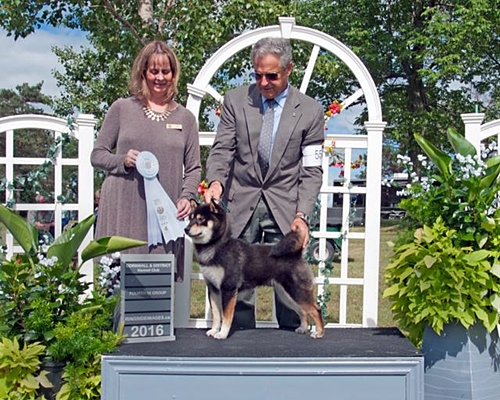 Bill winning a Group 4 placement at Cornwall KC Show, Sept 1.
---
Show News!
Thousand Islands Kennel & Obedience Club Show
"Sumo" completed his championship with Winner's Dog and Best of Winners on Friday!
Kalypso won Winner's Bitch and Best of Opposite. Bill won Best of Breed!
---
Show News!
At the Kingston Limestone dog show Kali completed her championship and Bill completed his championship!!! So now we have 2 more champions!!
---
Show News!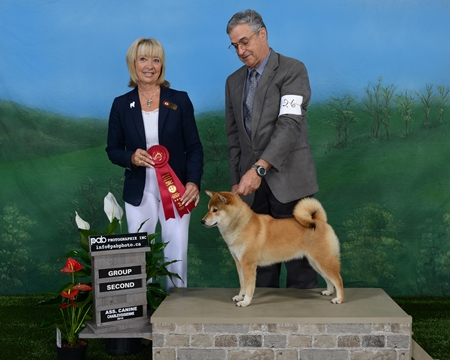 Another second in group win for Liz at the Baie St Paul all breed dog show.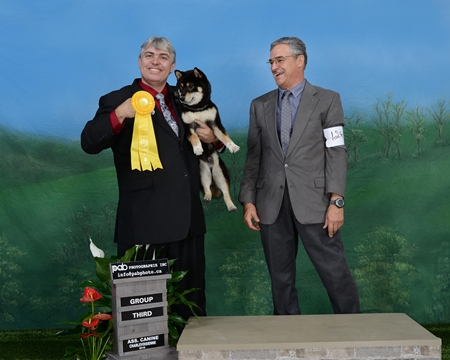 This is "Bill's" first show weekend at Baie St Paul, Qc and on Saturday, he took a group third under International Brazilian
judge Dr Carlos Flaquer, DVM.

This is his official show picture. (The judge enjoyed him as much as we did.)
---
New Champion!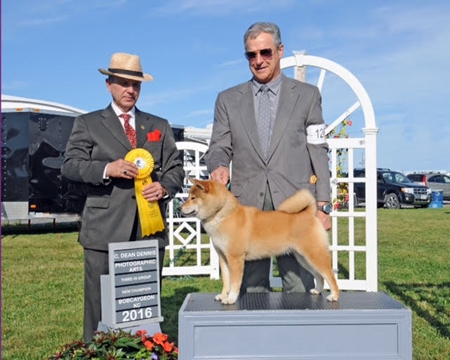 Liz is now officially a Champion! At the Bobcageon and Kawartha shows, her second weekend out, she jumped to # 2 Shiba Inu in Canada! What a start!
---
New Arrival (Babe X Kipper)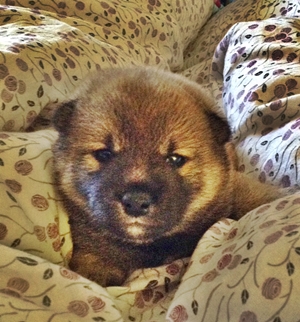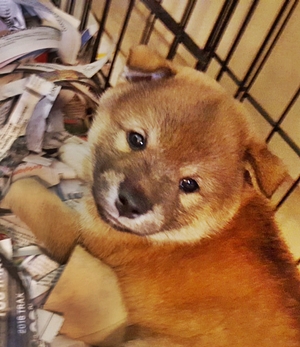 ---
Meet the "Bobble Heads"!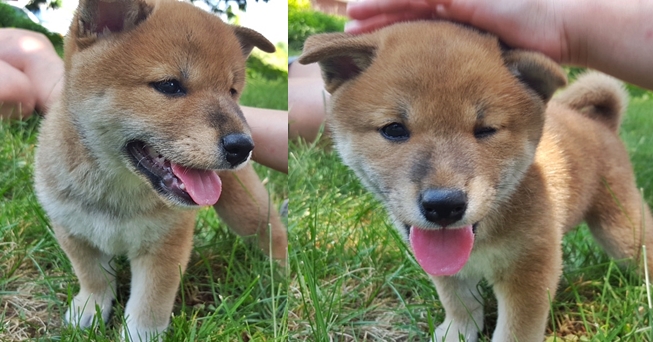 ---